DCP Management with the SoSmart Software Suite





Disaggregation of the optical network requires a similarly open approach to the management of the network elements.
With the SoSmart Software Suite, Smartoptics provides a modular, SDN-based, management solution using open API:s and opensource software.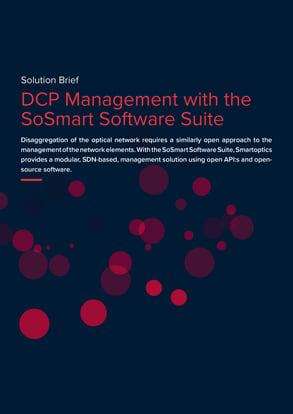 Looking at the total life cycle cost of a communications network, the recurring
operational and management expenses dominate. Smartoptics, being a strong
supporter of open optical networking systems, is convinced that the disaggregation of legacy architectures taking place for the physical xWDM network should also be applied to network management and control.
Our management solutions are therefore based on the principles of open API:s and Software Defined Networking (SDN), with a focus on a high degree of automation and on the disaggregation of functionality by use of open source software, reducing the operational costs of the optical network.
Download the guide to learn more about:
Smartoptics Management Philosophy
The DCP Families and their Management
The different blocks included in the SoSmart Software Suite